We have our own way of doing things. Our one of a kind process comes out of a company culture that values our people, doing the job right and treating clients like family above all else. To ensure that, we create value added products and methods designed to combat your fouling issues. We simply move matter out of place, protect your assets and create value.
Why KCI?
Keep it Klean
100% Customer Perception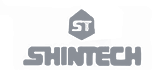 We Are
Our company embodies a family environment made up of individuals who stand on our culture, and have built it into what it stands for today. God, Family, Team & Me®.
Our Story