Award-winning Safety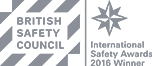 5-point Safety System
100% commitment and compliance to safety culture and best practices

We are a company dedicated to outstanding safety and health results, not just with strict compliance, but also with a culture that prioritizes and is continuously motivated to research and develop our own best practices to enhance our performance of all safety activities.

Establish guidelines

Specific guidelines are established for every single job to ensure our team members are mitigating every risk each and every day. We build and share our knowledge and lessons learned to ensure we are continually raising the bar of results.

Train team members rigorously

With each Team Member, comes over 155 hours/year in in-house training and retraining. kci believes in going above and beyond what is required and continues to challenge ourselves to make "safety sexy" and ensure accountability.

Monitor job site

There is accountability at all levels of the organization both as individuals and as a team. All Team Members have "Stop Cards" which give them 100% authorization and accountability to stop any project or process at any time they believe 100% conformance to requirements "may" not be met.

Audits and improvements

We are continuously assessing our processes to ensure our conformance, commitment to our safety culture and to guard against complacency, hazards and risks. Regular audits are performed to ensure job safety.